WJES and case reports/case series
World Journal of Emergency Surgery
2007
2:11
Received: 22 March 2007
Accepted: 08 May 2007
Published: 08 May 2007
Case series (CS) and case reports (CR) consist either of collections of reports on the diagnosis and treatment of individual patients, or of a report on a single patient. Since its launch in March 2006, World Journal of Emergency Surgery (WJES) has received high numbers of CRs for publication: up until December 2006 they represented 39.2% of all articles submitted. Unfortunately the rejection rate of CRs in WJES, like many medical journals, is quite high, (85.2% of submitted CRs), and is significantly higher than other article types in the journal, where the rejection rate so far is 51.7%.
Since WJES is an electronic journal, whether or not a CR is published doesn't depend upon the available pages in the journal, but only upon the nature of the competing CRs. Ultimately, the low acceptance rate of CRs happens because, according to the principles of evidence based medicine, they provide a lower strength of evidence among clinical studies, being towards the base of the Evidence Pyramid [
1
], just above 'Expert Opinion' (Fig.
1
).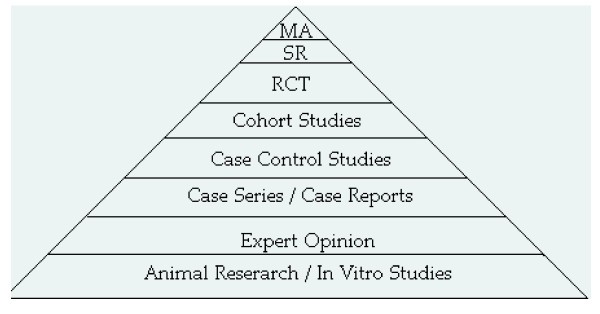 On the other hand, observation and description has always been seen as the first step in science, and should be the same in clinical science. For this reason, since ancient times doctors have written CRs in a very "modern" manner by giving a clinical picture of the clinical case, followed by anatomic/physiological diagnosis, prognosis, and then discussion [2]. If the CR is intended as a way of discovering what is 'un-known' or 'unrecognized', it fits perfectly, as a scientific approach with the Karl Popper's hypothetico-deductive model [3]. CRs may be important sources of information about the care of patients because they describe important scientific observations missed or undetectable by "higher" clinical studies. These insights expand our knowledge and lead to new research, resulting in better and safer patient care [4, 5]. Many important pathologies were discovered by clinicians who presented them to the world through a CR, for example, Burkitt's lymphoma [6], the acquired immune deficiency syndrome [7], and the new variant of Creutzfeldt-Jakob disease [8] were all brought to attention in this manner. Furthermore CRs are important for the detection of side effects of drugs, prompting some recent retractions from the market, such as weight reduction agents [9] and antihistamine drug [10]. In addition, in the fields of surgery and especially in emergency surgery to obtain the "evidence" that could be positioned at the top of the Evidence Pyramid is difficult and occasionally impossible to attain due to the large numbers required for the organization of efficacious randomised controlled trials, cohort and case-control studies.
With this editorial, having now clarified our point of view not only about the limits of CRs [11–13], but also their importance in evidence based medicine [14–18] we intend to lay out simple guidelines for acceptance criteria, content and format to allow CRs' publication in WJES.
As a first step we would like to ask authors to identify the reasons for publishing the CR in WJES. In the Appendix 1 we report the criteria for publishing CRs.
In Appendix 2 we describe the format with simple guidelines for writing up a CR. The CR should be structured into the following sections: Abstract, Background, Case Report and Discussion. Further details on each of these sections follows below.
© Ansaloni et al; licensee BioMed Central Ltd. 2007
This article is published under license to BioMed Central Ltd. This is an Open Access article distributed under the terms of the Creative Commons Attribution License (http://creativecommons.org/licenses/by/2.0), which permits unrestricted use, distribution, and reproduction in any medium, provided the original work is properly cited.