Second trimester hepatic rupture in a 35 year old nulliparous woman with HELLP syndrome: a case report
World Journal of Emergency Surgery
2009
4:23
Received: 25 March 2009
Accepted: 15 June 2009
Published: 15 June 2009
Abstract
The HELLP syndrome (haemolysis, elevated liver blood tests and low platelets) is a serious complication in pregnancy characterized by haemolysis, elevated liver enzymes and low platelet count occurring in 0.5 to 0.9% of all pregnancies and in 10–20% of cases with severe preeclampsia. Hepatic capsular rupture is a rare yet dramatic complication of HELLP syndrome. The majority of cases occur in multiparous women over the age of 30. Classically it presents with acute onset right upper quadrant pain in the presence of constitutional symptoms such as vomiting and pyrexia. However, symptoms and signs are usually non specific. Spontaneous hepatic rupture can be preceded by signs of hypovolaemic shock; yet the diagnosis is infrequently made prior to emergent laparotomy. We present the case of a 35 year old nulliparous woman with a second trimester gestational hepatic rupture associated with HELLP syndrome. We briefly discuss the aetiology, diagnostic difficulties and treatment options associated with this rare presentation.
Keywords
Preeclampsia
HELLP Syndrome
Fetal Heart Beat
Hepatic Rupture
Hepatic Haematoma
Case presentation
A previously healthy 35 year old nulliparous woman conceived secondary to egg donation in-vitro fertilisation therapy on a background of primary infertility. Routine antenatal booking visit at 14 weeks gestation revealed a blood pressure of 146/81 with a normal urine specimen. At 18 weeks gestation, she was found to have +3 proteinuric asymptomatic hypertension (184/102 mm Hg) with HELLP syndrome [platelets 105 (150–400 × 109 per litre), alanine transaminase 2223 (5–40 IU/L), aspartate transaminase 2823 (10–40 IU/L), lactate dehyrogenase 14361(> 600 U/L), INR 1.6 (<1.0), activated partial thromboplastin time 186 (25–40 secs) and a 24 hour urine collection showed 2.8 gr of protein. She complained of some mild epigastric discomfort, but this settled with simple analgesia. She was promptly commenced on anti-hypertensive medicine.
Her anti – hypertensive requirements gradually increased with an observable worsenening of peripheral oedema and proteinuria. Radiological investigations inclusive of ultrasound of kidneys, gallbladder, spleen and liver at that time were all normal. Multi-disciplinary investigation of underlying aetiologies for this early onset pre-eclampsia did not discern a cause. Connective tissue screening was negative.
Although a normal multi-vessel Doppler was present, the estimated fetal weight was 184 grams (<3rd percentile). Two days post admission the patient's condition changed. She became acutely haemodynamically unstable complaining of severe epigastric pain and obvious hyperreflexia. Immediate transfer to the High Dependency Unit occurred. Ultrasound scan revealed a large liver haematoma (figure
1
). The fetal heart beat was still present. She received 4 units of O negative blood. A repeat ultrasound one hour later revealed free blood in the abdominal cavity; the fetal heart beat was now absent.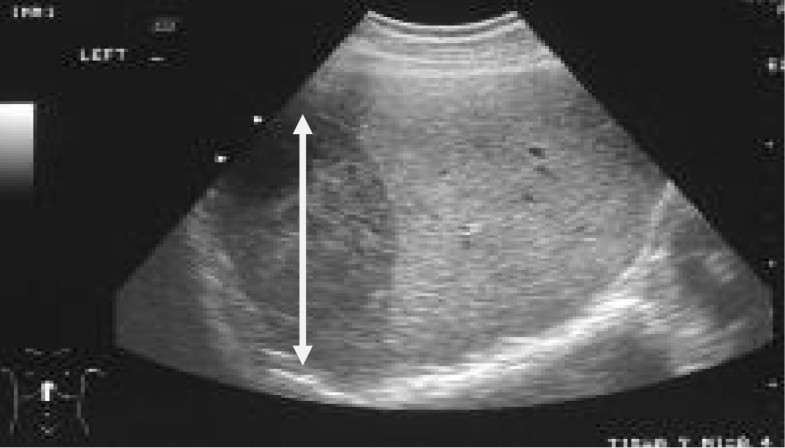 The patient was immediately transferred to the operating theatre for a laparotomy. The abdomen was opened through a midline incision. The bleeding was found to be emanating from a ragged laceration on the anterior aspect of the right lobe of the liver which was fully accessible without the need for mobilisation of the liver (figure
2
). Coagulopathy prevented haemostasis by electro-cautery or using topical agents and thus haemostasis was secured by packing the liver with gauze swabs placed above and around the liver in a routine manner. A hysterotomy and removal of a non-viable fetus was also performed. The abdomen was closed with interrupted PDS sutures to the fascia and clips to the skin without undue difficulty. A second-look laparotomy was performed at 48 hours at which stage the swabs were removed and a liver biopsy taken with a Tru-cut biopsy needle. There was no evidence of abdominal compartment syndrome at any stage.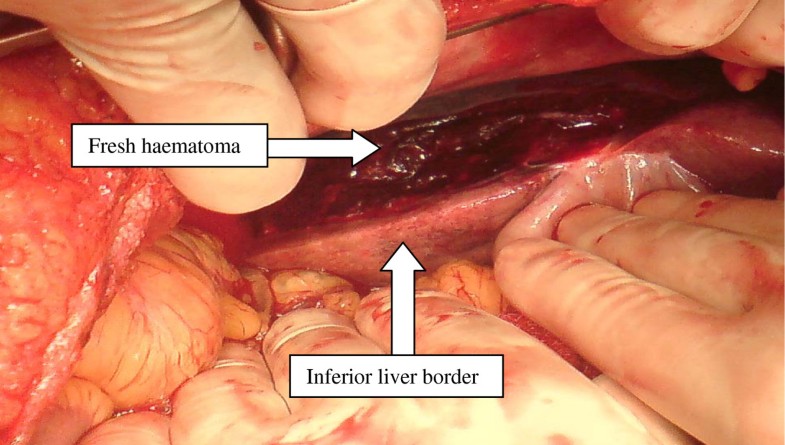 Her post operative course was eventful in that she developed multi-organ failure requiring a two week stay in the intensive care unit with renal replacement therapy, mechanical ventilation and vasopressor support. Fortunately, she made a prompt recovery and was discharged home on day 20. She was counselled against attempting to get pregnant again in view of the risk of recurrence of the HELLP syndrome.
Hepatic biopsy revealed massive hepatic necrosis explaining the patients liver failure (figure
3
).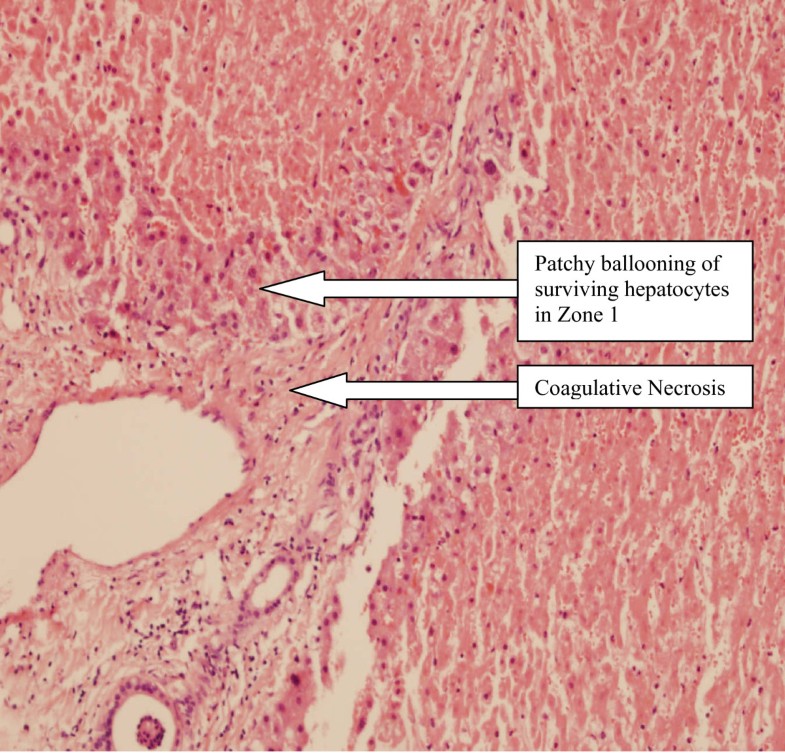 Discussion
With only 200 cases of hepatic rupture documented in the global literature, it is not surprising that few doctors have experience in dealing with this condition [1].
Conclusion
Although gestational hepatic rupture is a rare complication of preeclampsia, a high index of suspicion should exist when treating these patients with a focus at all times on multidisciplinary care. Although classically a condition with a mortality reaching as high as 85%, some centres boast a combined maternal – fetal mortality of 25%, reflecting the aforementioned changes in the diagnosis and treatment of this condition [16]. We contribute our favourable outcome to a multidisciplinary approach in all stages of management.
Consent
Written informed consent was obtained from the patient for publication of this case report and any accompanying images. A copy of the written consent is available for review by the Editor-in-Chief of this journal.
Authors' Affiliations
(1)
Department of Surgery, Cork University Hospital, Wilton, Ireland
Copyright
© Kelly et al; licensee BioMed Central Ltd. 2009
This article is published under license to BioMed Central Ltd. This is an Open Access article distributed under the terms of the Creative Commons Attribution License (http://creativecommons.org/licenses/by/2.0), which permits unrestricted use, distribution, and reproduction in any medium, provided the original work is properly cited.