Bologna guidelines for diagnosis and management of adhesive small bowel obstruction (ASBO): 2013 update of the evidence-based guidelines from the world society of emergency surgery ASBO working group
World Journal of Emergency Surgery
2013
8:42
Received: 20 September 2013
Accepted: 23 September 2013
Published: 10 October 2013
Abstract
Background
In 2013 Guidelines on diagnosis and management of ASBO have been revised and updated by the WSES Working Group on ASBO to develop current evidence-based algorithms and focus indications and safety of conservative treatment, timing of surgery and indications for laparoscopy.
Recommendations
In absence of signs of strangulation and history of persistent vomiting or combined CT-scan signs (free fluid, mesenteric edema, small-bowel feces sign, devascularization) patients with partial ASBO can be managed safely with NOM and tube decompression should be attempted. These patients are good candidates for Water-Soluble-Contrast-Medium (WSCM) with both diagnostic and therapeutic purposes. The radiologic appearance of WSCM in the colon within 24 hours from administration predicts resolution. WSCM maybe administered either orally or via NGT both immediately at admission or after failed conservative treatment for 48 hours. The use of WSCM is safe and reduces need for surgery, time to resolution and hospital stay.
NOM, in absence of signs of strangulation or peritonitis, can be prolonged up to 72 hours. After 72 hours of NOM without resolution, surgery is recommended.
Patients treated non-operatively have shorter hospital stay, but higher recurrence rate and shorter time to re-admission, although the risk of new surgically treated episodes of ASBO is unchanged. Risk factors for recurrences are age <40 years and matted adhesions. WSCM does not decrease recurrence rates or recurrences needing surgery.
Open surgery is often used for strangulating ASBO as well as after failed conservative management. In selected patients and with appropriate skills, laparoscopic approach is advisable using open access technique. Access in left upper quadrant or left flank is the safest and only completely obstructing adhesions should be identified and lysed with cold scissors. Laparoscopic adhesiolysis should be attempted preferably if first episode of SBO and/or anticipated single band. A low threshold for open conversion should be maintained.
Peritoneal adhesions should be prevented. Hyaluronic acid-carboxycellulose membrane and icodextrin decrease incidence of adhesions. Icodextrin may reduce the risk of re-obstruction. HA cannot reduce need of surgery.
Adhesions quantification and scoring maybe useful for achieving standardized assessment of adhesions severity and for further research in diagnosis and treatment of ASBO.
Keywords
Laparoscopic ApproachSmall Bowel ObstructionAdhesion FormationIcodextrinAdhesive Small Bowel Obstruction
Background of WSES guidelines
Adhesive small bowel obstruction requires appropriate management with a proper diagnostic and therapeutic pathway. Indication and length of Non Operative treatment and appropriate timing for surgery may represent an insidious issue.
Delay in surgical treatment may cause a substantial increase of morbidity and mortality. However repeated laparotomy and adhesiolysis may worsen the process of adhesion formation and their severity. Furthermore the introduction and widespread of laparoscopy has raised the question of selection of appropriate patients with ASBO good candidate for laparoscopic approach. On the other hand, several adjuncts for improving the success rate of NOM and clarifying indications and timing for surgery are currently available, such as hyperosmolar water soluble contrast medium.
No consensus has been reached in diagnosing and managing the patients with ASBO and specific and updated guidelines are lacking.
We carried out an extensive review of the English-language literature and found that there was little high-level evidence in this field, and no systematically described practical manual for the field. Most importantly, there are no standardized diagnostic criteria and therapeutic management guidelines for ASBO, therefore, we would like to establish standards for these items. The Bologna Guidelines include evidence-based medicine and reflect the international consensus obtained through earnest discussions among professionals in the field on 1–3 July, 2010, at the Belmeloro Convention Center, Bologna, Italy.
We aimed to validate and refine the first version of the guidelines, hypothesizing that a model, incorporated in a treatment algorithm, would be predictive, would prevent delayed management of strangulation and would be successfully improved.
Therefore in 2013 the guidelines have been revised and updated by the WSES Working Group on ASBO with the development of diagnosis and treatment evidence-based algorithms (Figure
1
, Figure
2
).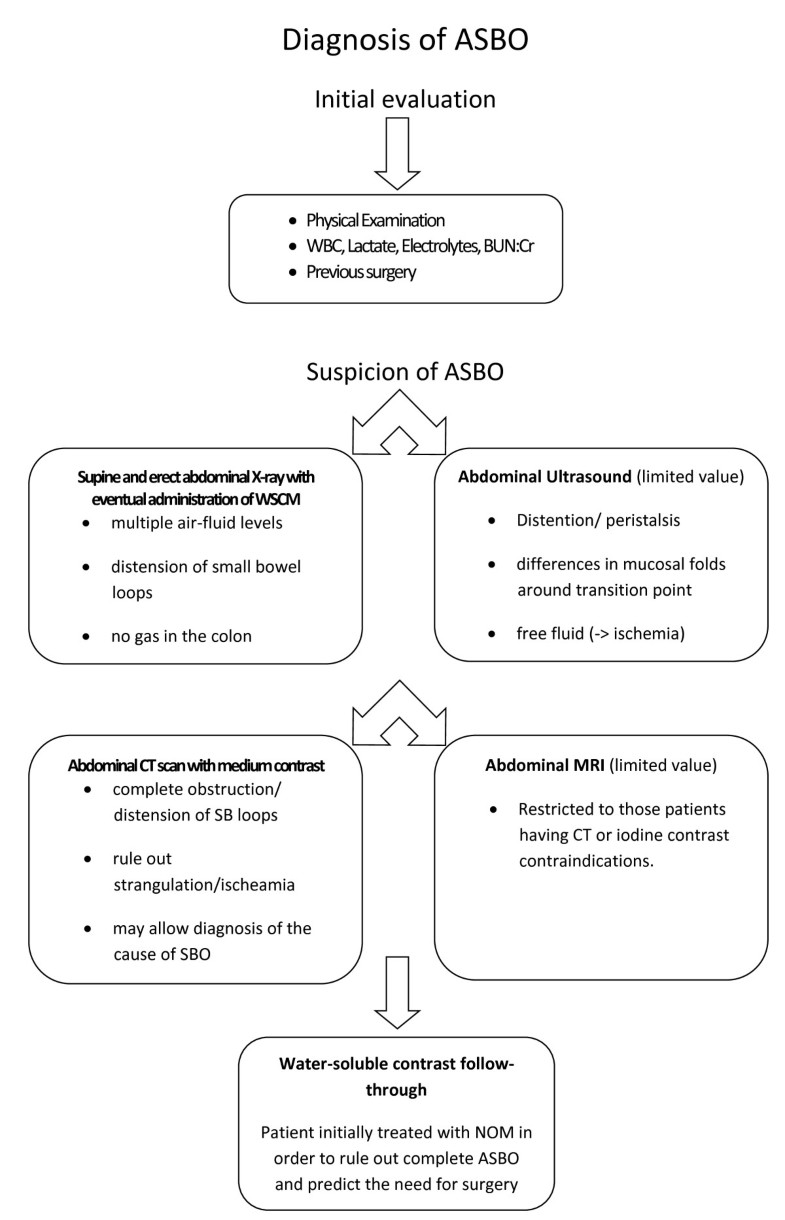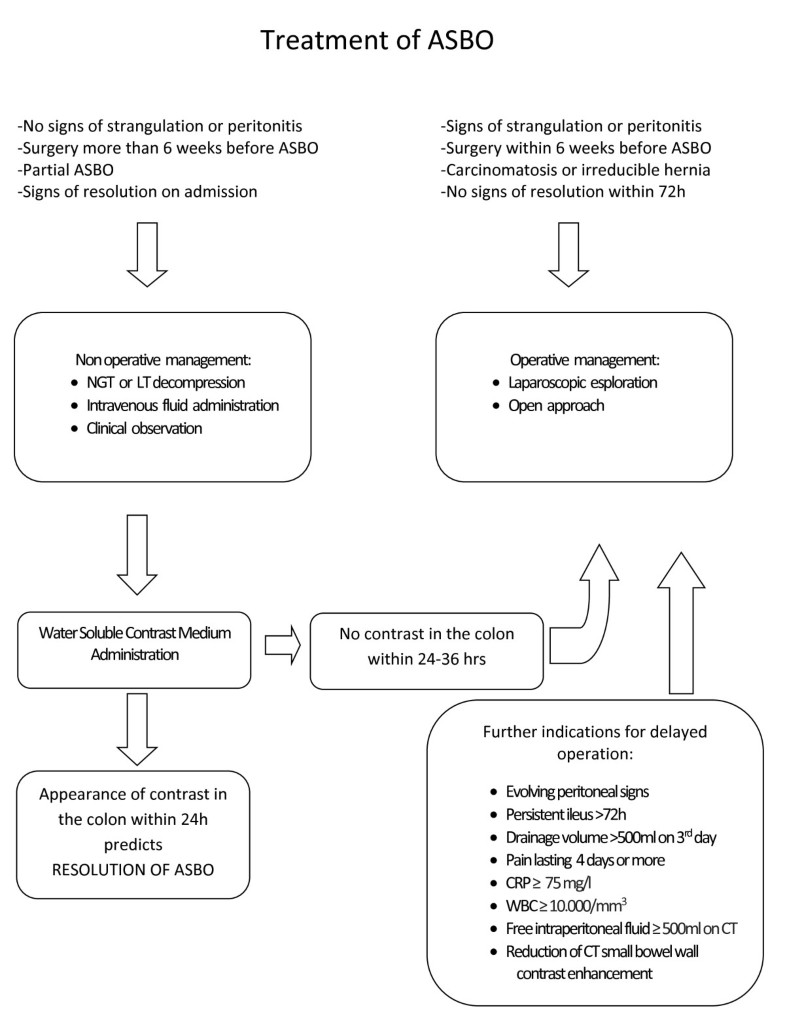 Furthermore a customary management can help to standardize care throughout a district, a region, or a state satisfying the corporate governance requirements of "clinical efficacy" and "economic efficiency" with the results of improved outcomes and decreased costs.
Improvement of performance is a mainstay of any practice management guideline.
Conclusions
ASBO is a common disease. Non operative management should be attempted in absence of signs of peritonitis or strangulation. WSCM is safe and has a definite role in diagnosis (for predicting the resolution or need for surgery) and therapy (for reducing the operative rate and shortening time to resolution of symptoms and hospital stay). Open surgery for several surgeons still remains the safest and most effective operative approach, although laparoscopic approach appears to be safe and feasible in the hands of experienced laparoscopic surgeons and in selected patients, because there are less overall complications, prolonged ileus rates and pulmonary complication associated with its use. Prevention with hyaluronic acid-carboxycellulose membrane or icodextrin, has actually gained a capital relevance. Adhesions quantification and scoring is a promising development tool for further research towards diagnosis and management of ASBO and peritoneal adhesions prevention.
Authors' Affiliations
(1)
Emergency and Trauma Surgery Unit, Departments of Emergency and Surgery, Maggiore Hospital Trauma Center, Bologna, Italy
(2)
Emergency Surgery Unit, Department of General and Multivisceral Transplant Surgery, S Orsola Malpighi University Hospital, Bologna, Italy
(3)
Upper GI Unit, Department of Surgery, Frenchay Hospital, Bristol, UK
(4)
Department of Surgery, Denver Health, University of Colorado Health Sciences Denver, Denver, USA
(5)
General Surgery I, Ospedali Riuniti di Bergamo, Bergamo, Italy
(6)
Department of General and Emergency Surgery, Associated Hospitals "Villa Sofia - Cervello", Palermo, Italy
(7)
Department of Surgery, Massachusetts General Hospital, Harvard Medical School, Boston, USA
(8)
Department of Surgery, Macerata Hospital, Macerata, Italy
(9)
Washington Cancer Institute, Washington Hospital Center, Washington, USA
(10)
Department of Surgery, Radboud University Nijmegen Medical Centre, Nijmegen, The Netherlands
(11)
Department of Surgery, University of Florida, Gainesville, USA
(12)
Department of Surgery, Erasmus University Medical Center, Rotterdam, The Netherlands
(13)
Department of Surgery, John Hunter Hospital and University of Newcastle, Newcastle, Australia
(14)
Department of Emergency and Trauma Surgery, Maggiore Hospital of Parma, Parma, Italy
(15)
Emergency Surgery, Department of Abdominal Surgery, Meilahti Hospital, University of Helsinki, Helsinki, Finland
(16)
Division of General Surgery, University of Pittsburgh Physicians, Pittsburgh, USA
(17)
Division of Trauma Surgery, University of Campinas, Campinas, Brazil
Copyright
© Di Saverio et al.; licensee BioMed Central Ltd. 2013
This article is published under license to BioMed Central Ltd. This is an Open Access article distributed under the terms of the Creative Commons Attribution License (http://creativecommons.org/licenses/by/2.0), which permits unrestricted use, distribution, and reproduction in any medium, provided the original work is properly cited. The Creative Commons Public Domain Dedication waiver (http://creativecommons.org/publicdomain/zero/1.0/) applies to the data made available in this article, unless otherwise stated.