The complications associated with Resuscitative Endovascular Balloon Occlusion of the Aorta (REBOA)
World Journal of Emergency Surgery
2018
13:20
Received: 23 March 2018
Accepted: 7 May 2018
Published: 11 May 2018
Abstract
Non-compressible torso hemorrhage (NCTH) remains a significant cause of morbidity and mortality in the field of trauma and emergency medicine. In recent times, there has been a resurgence in the adoption of Resuscitative Endovascular Balloon Occlusion of the Aorta (REBOA) for patients who present with NCTH. Like all medical procedures, there are benefits and risks associated with the REBOA technique. However, in the case of REBOA, these complications are not unanimously agreed upon with varying viewpoints and studies. This article aims to review the current knowledge surrounding the complications of the REBOA technique at each step of its application.
Keywords
Complications
Radiology
Interventional
Multiple trauma
Abdomen
Shock
Hemorrhagic
REBOA
Background
Non-compressible torso hemorrhage (NCTH) is a major cause of morbidity and mortality in the trauma setting [
1
]. The difficulty in controlling NCTH arises from the fact that the bleeding cannot be managed like other types of traumatic hemorrhage, such as the use of tourniquets or direct pressure in limb hemorrhage [
2
,
3
]. Instead, highly invasive techniques such as resuscitative thoracotomies (RT) are used to control thoracic bleeding. RT has low rates of patient survival as well as increased exposure of health care workers to blood-borne pathogens [
4
,
5
]. Resuscitative Endovascular Balloon Occlusion of the Aorta (REBOA) is an old technique that has been receiving renewed interest in recent years [
1
,
6
]. As the name suggests, the technique involves the introduction of a balloon occlusion catheter via the femoral artery into the aorta and inflating the balloon at one of two aortic zones (zone I or zone III) depending on the circumstances [
7
,
8
]. The aorta can be divided into three zones (Fig.
1
): with zone I being the aorta between the let subclavian artery and the celiac trunk, zone II being the aorta between the celiac trunk and the lowest renal artery, and zone III being the area between the lowest renal artery and the aortic bifurcation [
8
]. Zone II is not for occlusion [
8
]. The balloon is then inflated to stem the flow of blood and later deflated and removed [
8
]. Renewed interest particularly in the USA in REBOA has led to its introduction in many trauma centers, as well as increased levels of research and analysis regarding the technique [
9
].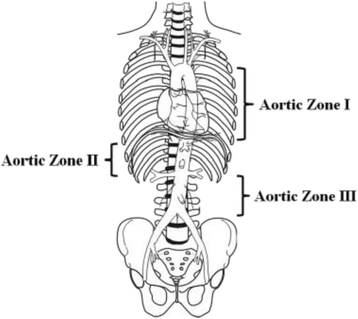 REBOA shows promise in improving the outcomes for patients with NCTH in comparison to RT. In a recent prospective study, there was no significant difference in overall mortality between patients undergoing RT and those undergoing REBOA for NCTH (REBOA, 71.7 vs. RT, 83.8%; p = 0.120) [9]. However, there are also complications associated with the procedure. Excessive ischemia during aortic occlusion, post-operative thrombosis, and limb amputation are among some of the reported complications of the procedure [10].
Methods
Considering the increasing number of cases treated using the REBOA technique, the aim of this paper is to review complications of REBOA at each stage of the procedure using a combination of literature review and clinical experience. PubMed online searches were used including search words such as REBOA, resuscitation, hemorrhage, and shock. We also highlight key areas for further investigation and research.
Discussion
REBOA or no REBOA?
The use of endovascular aortic occlusion is an adjunct for resuscitation in patients with severe hemorrhage. In the setting of traumatic arrest from hemorrhage below the diaphragm, RT with cross-clamp may be used instead of REBOA for the purpose of aortic occlusion. In patients with physiologic decompensation, the advantage of REBOA is the ability to place the catheter at the intended level of occlusion, monitor the intra-aortic pressure with high-fidelity (if using the ER-REBOA catheter), and rapidly inflate the balloon prior to arrest is less invasive and committal than a RT. In the setting of severe pelvic hemorrhage, traditional control with pelvic packing and/or internal iliac ligation can be augmented by REBOA placed prior to these measures as a bridge to hemostasis. The benefits of using REBOA are largely based on the nature of it being a less invasive procedure and being able to intervene earlier in the downward spiral of exsanguinating hemorrhage: REBOA offers immediate, early temporization of hemorrhage prior to cardiovascular collapse. Consequences of early temporization may include decreased blood product transfusions with their inherent risks and sequela, less stress on cardiac function, decreased secondary brain injury for those with significant TBI, and the chance for survival beyond the ED. Significant research including the role of partial REBOA will help refine its use for a wide variety of clinical scenarios.
Conclusion
REBOA is an emergent and increasingly accepted technique used as a less invasive alternative for controlling bleeding in patients with NTCH. However, for this procedure to be used in widespread practice, a better understanding of the potential complications that can arise in all stages must be well recognized. Complications can arise in arterial access, balloon positioning, inflation, during occlusion, deflation, and removal of the sheath. Comprehensive investigation and studies conducted into each of these stages of REBOA can allow identification of specific complications and adequate measures to be taken to avoid these complications and reduce potential morbidity and mortality associated with REBOA.
Abbreviations
EVAR:

Endovascular Management of Abdominal Aortic Aneurysms
NCTH:

Non-compressible torso hemorrhage
pREBOA:

Partial REBOA
rAAA:

Ruptured abdominal aortic aneurysm
REBOA:

Resuscitative Endovascular Balloon Occlusion of the Aorta
RT:

Resuscitative thoracotomies
Declarations
Acknowledgements
We would like to thank Dr. Marcelo Ribeiro and Dr. Megan Brenner for their advice, review, and feedback.
Authors' contributions
MR was the main editor and leader of the project group. CF and AN contributed to the research and the writing process as well as the majority of the editing and submission of the manuscript. VR, GB, and RM contributed to the research and writing of the manuscript. MB provided expert feedback and guidance to the team. All authors read and approved the final manuscript.
Ethics approval and consent to participate
Ethics approval was not required for this review.
Competing interests
Dr. Megan Brenner is a Clinical Advisory Board Member––Prytime Medical Inc. All other authors declare that they have no competing interests.
Publisher's Note
Springer Nature remains neutral with regard to jurisdictional claims in published maps and institutional affiliations.
Open AccessThis article is distributed under the terms of the Creative Commons Attribution 4.0 International License (http://creativecommons.org/licenses/by/4.0/), which permits unrestricted use, distribution, and reproduction in any medium, provided you give appropriate credit to the original author(s) and the source, provide a link to the Creative Commons license, and indicate if changes were made. The Creative Commons Public Domain Dedication waiver (http://creativecommons.org/publicdomain/zero/1.0/) applies to the data made available in this article, unless otherwise stated.
Authors' Affiliations
(1)
Disciplina de Cirurgia Geral e Trauma, Universidade Santo Amaro, São Paulo, Brazil
(2)
School of Medicine, University of New South Wales, Sydney, Australia
(3)
RA Cowley Shock Trauma Center, University of Maryland, Baltimore, USA