2016 WSES guidelines on acute calculous cholecystitis
World Journal of Emergency Surgery
2016
11:25
Received: 4 April 2016
Accepted: 2 June 2016
Published: 14 June 2016
The Erratum to this article has been published in World Journal of Emergency Surgery 2016 11:52
Abstract
Acute calculus cholecystitis is a very common disease with several area of uncertainty. The World Society of Emergency Surgery developed extensive guidelines in order to cover grey areas. The diagnostic criteria, the antimicrobial therapy, the evaluation of associated common bile duct stones, the identification of "high risk" patients, the surgical timing, the type of surgery, and the alternatives to surgery are discussed. Moreover the algorithm is proposed: as soon as diagnosis is made and after the evaluation of choledocholitiasis risk, laparoscopic cholecystectomy should be offered to all patients exception of those with high risk of morbidity or mortality. These Guidelines must be considered as an adjunctive tool for decision but they are not substitute of the clinical judgement for the individual patient.
Keywords
Acute calcolous cholecystitisDiagnosisCholecystectomyBiliary tree stonesSurgical riskGallbladder percutaneous drainageEndoscopic ultrasoundMagnetic resonanceAntibioticAbdominal infections
Background
Gallstones are common and present as acute calculus cholecystitis (ACC) in 20 % of patients with symptomatic disease, with wide variation in severity. In developed countries, 10–15 % of the adult population is affected by gallstones. According to the third National Health and Nutrition Examination Survey, 6.3 million men and 14.2 million women aged 20 to 74 in the United States had gallbladder disease [1–5]. In Europe, the Multicenter Italian Study on Cholelithiasis (MICOL) examined nearly 33,000 subjects aged 30 to 69 years in 18 cohorts of 10 Italian regions. The overall incidence of gallstone disease was 18.8 % in women and 9.5 % in men [6]. However, the prevalence of gallstone disease varies significantly between ethnicities. Biliary colic occurs in 1 to 4 % annually [1, 7–9]. ACC occurs in 10 to 20 % of untreated patients [9]. In patients discharged home without operation after ACC, the probability of gallstone related events is 14, 19, and 29 % at 6-weeks, 12 weeks, and at 1 year, respectively. Recurrent symptoms involve biliary colic in 70 % while biliary tract obstruction occurs in 24 % and pancreatitis in 6 % [10]. Despite the relevant frequency of ACC, significant controversies remain regarding the diagnosis and management of ACC. The 2007 and 2013 Tokyo guidelines (TG) attempted to establish objective parameters for the diagnosis of ACC [11, 12]. However debates continue in the diagnostic value of single ultrasound (US) signs, as well as of laboratory tests. With regard to the treatment of ACC, historically, the main controversies were around the timing of surgery. The need for surgery as compared to conservative management has been less investigated, particularly in high surgical risk patients. The other major disagreements include: method and need to diagnose potential associated biliary tree stones during ACC, treatment options, type of surgery, definition and management of high surgical risk patients (with clarification of the role for cholecystostomy).
While the TG have certainly improved the understanding of ACC, some criticisms have followed [13, 14]. Indeed, the references in the TG are outdated for some recommendations; the ACC scoring system has not been validated and it does not distinguish between suspected gallbladder inflammation and systemic signs of ACC. Finally, the conclusions are not clear because all the different therapeutic options are available for the same "cholecystitis severity grade". For these reasons the World Society of Emergency Surgery (WSES) decided to convene a consensus conference (CC) to investigate these controversies and define its guidelines regarding diagnosis and treatment of ACC.
Material and methods: consensus conference organizational model
On August 2013 the Scientific Board of the 2
nd
World Congress of the World Society of Emergency Surgery (WSES), endorsed its president, to organize the CC on ACC in order to develop the WSES Guidelines on this topic. The WSES President appointed four members to a Scientific Secretariat, eight members to an Organization Committee and eight members to a Scientific Committee, choosing them from the expert affiliates of WSES. Eight relevant key questions regarding diagnosis and treatment of ACC (reported in Table
1
) were developed to thoroughly analyse and fully cover the topic. Under the supervision of the Scientific Secretariat, a bibliographic search related to these questions was performed by an expert library documentarist (medical library of Papa Giovanni XXIII Hospital of Bergamo, Italy), who provided the results of the electronic search of PubMed and EMBASE through May 2015 without time or language restriction. The key words used for the electronic search are listed in Table
1
. An additional manual bibliography search was performed by each of the members of the working groups involved in the analysis of the above mentioned eight questions. Before the CC, a number of statements were developed for each of the main questions, along with the Level of Evidence (LoE) and the Grade of Recommendation (GoR) for each statement. The 2011 Oxford Classification was used to grade the LoE and GoR (available at
http://www.cebm.net/explanation-2011-ocebm-levels-evidence/
) Provisional statements and their supporting evidence were then submitted for review to all the participating members of the CC and to the WSES board members by email before the CC. Modifications were performed when necessary based on feedback.
Table 1
Key questions and key words used to develop the Consensus Conference on Acute Calculous Cholecystitis (ACC)
| Key questions | Key words |
| --- | --- |
| 1) Diagnosis of ACC: investigations. | Acute calculous cholecystitis Diagnosis, Ultrasound, Gallstones disease diagnosis. |
| 2) Treatment of ACC: best options. | Gallstones Dissolution, No-surgery gallstones, Extra-corporeal shock wave lithotripsy, Acute calculous cholecystitis, Gallstone disease, Management Gallstones, Endoscopy, Gallstone removal, Observation gallstones. |
| 3) Antibiotic therapy for ACC. | Antibiotics,Acute calculous cholecystitis, Gallstone disease, Management Gallstones. |
| 4) Patient selection for surgery: risk stratification i.e. definition of high risk patients | Acute calculous cholecystitis, Gallstone disease, Surgical risk score, High risk patient, old patient, PPossum score, Apache score |
| 5) Timing for surgery for ACC | Acute calculous cholecystitis, acute cholecystitis |
| 6) Type of surgery for ACC | Acute calculous cholecystitis, Surgery, Laparoscopy, Laparotomy, Cholecystectomy, Partial cholecystectomy, Subtotal cholecystectomy, Cirrhosis, Pregnancy |
| 7) Associated common bile duct stone: suspicion and diagnosis at the presentation | common bile duct stone; choledocholthiasis; endoscopic ultrasound, MRCP, ERCP, |
| 8) Alternative treatments for high risk patients | Acute calculous cholecystitis, Surgery, Gallbladder Drainage, Percutaneous gallbladder drainage, Cholecystostomy, High Risk Patient |
The CC on ACC was held in Jerusalem, Israel, on July 6th, 2015 during the 3
rd
World Congress of the WSES. During the first part of the CC, a member of each group presented each of the statements along with LoE, GoR, and the literature supporting each statement. Each statement was then voted upon by the audience in terms of "agree" or "not agree" using an electronic voting system. The percentage of agreement was recorded immediately; in case of disagreement greater than 30 %, the statement was modified after discussion. Furthermore, comments for each statement were collected; the results of vote are available in
Appendix 1
. Before the second part of the CC, the president and representatives from the Organization Committee, Scientific Committee and Scientific Secretariat modified the statements according to the findings of the first session of the CC. The revised statements were then presented again to the audience. During the CC, a comprehensive algorithm for the treatment of ACC was developed based on the results of the first session of the CC and voted upon for definitive approval (Fig.
1
). Simple statements along with their LoE and GoR are available in
Appendix 2
. Meanwhile all statements are reported in the following Results section, subdivided by each of the eight questions, with the relative discussion and supportive evidence.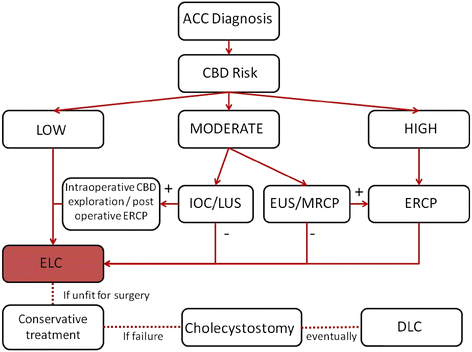 These Guidelines must be considered as an adjunctive tool for decision but they are not substitute of the clinical judgement for the individual patient.
Conclusion: grey areas and opportunities for future research
After achieving the consensus for all the statements, the participants to the Consensus Conference voted for the WSES algorithm on ACC which is reported in Fig. 1.
Based on the evidence included in the present guidelines, it can be stated that early laparoscopic cholecystectomy is the best therapeutic approach for ACC and that post-operative antibiotics are not necessary in cases of uncomplicated cholecystitis. Moreover, studies providing a high level of evidence on the management of associated CBDS have also been published. Visualisation of CBDS by AUS is a good predictor; patients with a high risk of CBDS should have a pre-operative ERCP; patients with a moderate risk should have non-invasive pre-operative investigation. However in both cases intra-operative exploration according to the local expertise has been reported as a recommended option with a high level of evidence. Furthermore we observed lack of studies investigating the cost savings of transcystic duct common bile duct removal of small stones.
The recommendations on the surgical treatment of ACC are however limited to patients who may be good candidates for urgent surgery. Grey areas still remain in the cases of patients not fit for urgent surgery or for laparoscopic surgery secondary to general conditions.
Diagnosis may be assessed by clinical, laboratory data and AUS but with such a diagnostic approach results appear controversial and supported by a limited number of high quality studies. A radiological investigation such as HIDA may be required to reach a diagnostic certainty. Since symptomatic gallbladder stones are, in any case, an indication for laparoscopic cholecystectomy, the former diagnostic uncertainty may not be relevant in healthy patients and the latter invasive radiological investigation should therefore be applied only in high-risk patients.
There is however no consensus on the evaluation of the operative risk. These WSES guidelines define the patient condition in lieu of the cholecystitis severity score as underlined in the TG13. This approach could favour a tailored therapy on patient's condition. Although the role of percutaneous cholecystostomy after failed conservative treatment in those patients not fit for surgery secondary to severe co-morbidities has been reported, the present guidelines have failed to find valuable criteria for the definition of such high-risk patients. Data on criteria for a definition of a high-risk patient other than that of septic shock, are scarce and of poor level of evidence. This is an area for research to improve the management of patients with ACC.
According to some high quality studies, subtotal cholecystectomy and low threshold for conversion should be recommended in cases of severe acute inflammation of the gallbladder at operation. Although the threshold for conversion strongly depends on the experience and skills of the surgeon, we support the development of an intraoperative score to help the surgeon in the decision to complete the operation by partial cholecystectomy and/or by open approach when "the critical view of safety" cannot be reached without adding risk.
Abbreviations
ACC, acute calculous cholecystitis; APACHE II, acute physiology and chronic health evaluation II; ASA, American Society of Anaesthesiology; AUS, abdominal ultrasound 37; CBD, common bile duct; CBDS, common bile duct stones 37; DLC, delayed laparoscopic cholecystectomy; ELC, early laparoscopic cholecystectomy; ERCP, endoscopic retrograde cholangiopancreateography; EUS, endoscopic ultrasound; GoR, grade of recommendation; IOC, intraoperative cholangiography; LC, laparoscopic cholecystectomy; LoE, level of evidence; LUS, laparoscopic ultrasound; MRCP, magnetic resonance cholangiopancreateography; OC, Organization Committee; Ppossum, portsmouth physiological and operative severity score for the enUmeration of mortality and morbidity; SC, Scientific Committee; SS, Scientific Secretariat; TG, Tokyo guidelines; WSES, World Society of Emergency Surgery
Declarations
Acknowledgements
We thank for the bibliographic search Mrs Franca Boschini (Medical Library of Papa Giovanni XXIII Hospital, Bergamo, Italy).
Funding
No authors received any funding resource. The paper received a WSES Institutional waiver for this publication.
Availability of data and supporting materials
There are no individual author data that reach the criteria for availability.
Authors' contributions
The WSES president was supported by the Scientific Secretariat in establishing the timetable of the CC and choosing the eight plus eight experts who were asked to participate respectively to Organization Committee and Scientific Committee: the Organization Committee had the task to support the Scientific Secretariat in building the framework for the Consensus and to support the Scientific Committee for the strict scientific part; the Scientific Committee had the assignment to select the literature and to elaborate, in co-working to Scientific Secretariat and Organization Committee, the statements. The Scientific Secretariat supported the WSES President, establishing the agenda, choosing the working tools and finally collaborating with Organization Committee and Scientific Secretariat. Consequently each question was assigned to one team consisting of one member of Organization Committee, one member of Scientific Committee and one member of Scientific Secretariat (each member of Scientific Secretariat covered two questions). Each team reviewed, selected and analyzed the literature, wrote and proposed the statement's drafts for one of the eight questions. WSES board reviewed the draft and made critical appraisals. All the statements were discussed and approved during the 3rd WSES World Congress, held in Jerusalem on 6th July 2015. The manuscript was further reviewed by Scientific Secretariat, Organization Committee and Scientific Committee according to congress comments and was then approved by the WSES board. FA, AA, LA, GB, FCC, FCa, MC, OC, FCo, SDS, KG, JK, MDK, RI, ABP, DP, MP, BS, MSa, MSu, PLV: conception, design and coordination of the study; data acquisition, analysis and interpretation; draft the manuscript. All authors read and approved the final manuscript.
Authors' information
Component of the teams for the Consensus Conference and the WSES Guidelines Development on ACC
President: Luca Ansaloni
Scientific Secretariat members: Andrea Allegri, Marco Ceresoli, Dario Piazzalunga, Michele Pisano.
Organization Committee members: Ferdinando Agresta, Giuseppe Borzellino, Fabio Cesare Campanile, Fausto Catena, Osvaldo Chiara, Federico Coccolini, Salomone Di Saverio, Massimo Sartelli
Scientific Committee members: Kurinchi Gurusamy, Rao Ivatury, Jeffry Kashuk, Michael Denis Kelly, Andrew B. Peitzman, Boris Sakakushev, Michael Sugrue, Pier Luigi Viale.
WSES Board members:
Ernest E Moore, (United States)
Fred Moore, (United States)
Ari Leppaniemi (Finland)
Walter Biffl (United States)
Ian Bailey (United Kingdom)
Zsolt Balogh (Australia)
Cino Bendinelli (Australia)
Luigi Bonavina (Italy)
Clay C. Burlew (United States)
Francesco Brunetti (France)
Giampiero Campanelli (Italy)
Ian Civil (New Zealand)
Raul Coimbra (United States)
David Costa (Spain)
Mark De Moya (USA)
Abe Fingerhut (France)
Sanjay Gupta (India)
Hans Jeekel (Holland)
Rifat Latifi (USA)
Yoram Kluger (Israel)
Ingo Marzi (Germany)
Thomas Scalea (USA)
Philip Stahel (USA)
Korhan Taviloglu (Turkey)
Gregorio Tugnoli (Italy)
Selman Uranues (Austria)
George Velmahos (United States)
Dieter Weber (Australia)
Imtiaz Wani (India)
Competing interests
The authors declare that they have no competing interests.
Consent for publication
Not applicable.
Ethics approval and consent to participate
Not applicable.
Open AccessThis article is distributed under the terms of the Creative Commons Attribution 4.0 International License (http://creativecommons.org/licenses/by/4.0/), which permits unrestricted use, distribution, and reproduction in any medium, provided you give appropriate credit to the original author(s) and the source, provide a link to the Creative Commons license, and indicate if changes were made. The Creative Commons Public Domain Dedication waiver (http://creativecommons.org/publicdomain/zero/1.0/) applies to the data made available in this article, unless otherwise stated.
Authors' Affiliations
(1)
General Surgery I, Papa Giovanni XXIII Hospital, Bergamo, Italy
(2)
Department of Surgery, UPMC, University of Pittsburgh School of Medicine, Pittsburgh, USA
(3)
Department of Surgical Research, Medical Univeristy of Graz, Graz, Austria
(4)
Department of Emergency and Trauma Surgery of the University Hospital of Parma, Parma, Italy
(5)
Department of General Surgery, Adria Civil Hospital, Adria (RO), Italy
(6)
University Hospital Southampton, Southampton, UK
(7)
Department of Traumatology, John Hunter Hospital and University of Newcastle, Newcastle, Australia
(8)
Acute Care Surgery, Queen's Medical Center, School of Medicine of the University of Hawaii, Honolulu, USA
(9)
Department of Surgery, IRCCS Policlinico San Donato, University of Milan Medical School, Milan, Italy
(10)
University of Verona, Verona, Italy
(11)
Unit of Digestive, Hepato-Pancreato-Biliary Surgery and Liver Transplantation, Henri Mondor Hospital AP-HP, Université Paris Est–UPEC, Créteil, France
(12)
Surgical Intensive Care Unit, Department of Surgery, Denver Health Medical Center, University of Colorado School of Medicine, Denver, USA
(13)
General Surgery - Day Surgery Istituto Clinico Sant'Ambrogio, Insubria University, Milan, Italy
(14)
Ospedale San Giovanni Decollato – Andosilla, Civita Castellana, Italy
(15)
Emergency Department, Trauma Center, Niguarda Hospital, Milan, Italy
(16)
Department of Surgery, Auckland City Hospital, Auckland, New Zealand
(17)
Division of Trauma, Surgical Critical Care, Burns, and Acute Care Surgery, University of California San Diego Health Sciences, San Diego, USA
(18)
Harvard University, Cambridge, USA
(19)
General, Emergency and Trauma Surgery, Maggiore Hospital Trauma Center, Bologna, Italy
(20)
Division of Trauma Surgery, University of Campinas, Campinas, Brazil
(21)
Department of Surgery, Government Medical College, Chandigarh, India
(22)
Tel Aviv University Sackler School of Medicine, Assia Medical Group, Tel Aviv, Israel
(23)
Acute Surgical Unit, Canberra Hospital, Canberra, Australia
(24)
Surgical Department, Mozyr City Hospital, Mozyr, Belarus
(25)
Erasmus MC Rotterdam, Rotterdam, Netherlands
(26)
University of Arizona, Tucson, USA
(27)
Meilahti Hospital, Helsinki, Finland
(28)
Department of Surgery, Harborview Medical Center, Seattle, USA
(29)
Department of Trauma, Hand, and Reconstructive Surgery, University Hospital, Goethe-University Frankfurt, Frankfurt, Germany
(30)
Department of Surgery, University of Florida, Gainesville, USA
(31)
First General Surgery Clinic, University Hospital St. George/Medical University, Plovdiv, Bulgaria
(32)
Department of Surgery, Macerata Hospital, Macerata, Italy
(33)
Shock Trauma Center, Critical Care Services, University of Maryland School of Medicine, Baltimore, USA
(34)
Denver Health Medical Center, Denver, USA
(35)
Taviloglu Proctology Center, Istanbul, Turkey
(36)
Department of Surgery, Medical University of Graz, Graz, Austria
(37)
Emergency Surgery, and Surgical Critical Care, Massachusetts General Hospital, Boston, USA
(39)
Trauma and General Surgery & The University of Western Australia, Royal Perth Hospital, Perth, Australia
(40)
Infectious Disease Unit, Teaching Hospital, S. Orsola-Malpighi Alma Mater Studiorum, University of Bologna, Bologna, Italy
(41)
Letterkenny University Hospital & Donegal Clinical Research Academy, Donegal, Ireland
(42)
Virginia Commonwealth University, Richmond, USA
(43)
Division of General Surgery, Rambam Health Care Campus, Haifa, Israel
(44)
Royal Free Campus, University College London, London, UK